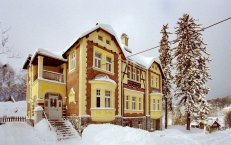 Contact
Jitka Fikejsová
Villa Jelenka, Jelení Kout 938,
468 51 Smržovka, Czech Republic
Booking
Phone:
+420 481 120 114 (VoIP)
E-mail:
jelenka@volny.cz
skype:
jelenka-cz

current snow
Smržovka: 0 cm
Tanvaldský špičák: 0 cm

Winter Accomodation
Villa Jelenka is a newly rebuilt villa from the beginning of 20th century, it is located in the city Smržovka at the foothill of mountain Černá Studnice in the Jizera Mountains.
There is
free wi-fi internet
connection in the Villa.
There is a
bar
that you can also rent for your teambuilding, party etc.
There is
ski lift
300m far from the Villa only.
Aviavable Bedrooms
We offer accomodation in appartments and rooms. We can offer 15 beds in total. Appartments are 2 - 4 bed with their own kitchens and bathrooms. Kitchens are equiped with cook-stove, electric kettles, fridges, and utensils.
We also offer 2 - 4 bed rooms with a kitchen and two bathrooms shared among 2 rooms. There is wash basin in the rooms, shared kitchen and bathrooms. The shared kitchen is equiped with a cook-stove, microwave, electric kettle, fridge, and utensils.
For more details about rooms and appartements see our price list with photos.
Gastronomy
The bar in Villa is opened in the evenings.
There are restaurants opened the whole year close to the Villa.
Surroundings
For those who love to ski, there is a lift 300m far from the Villa, that works also in the evenings.
There is also bigger ski-centre Tanvaldský Špičák 10 minutes far from the Villa. Famous ski-centre Harrachov is only 20 minutes far by car. If you are tired with skiing, you can relax in the swimming pool with a whirpooles, tobogaans ... in 10minutes far city Jablonec nad Nisou.
Public transport
There is train and bus stop up to 10 minutes far from the Villa.
There is parking place for guest free by the Villa